1. What is die casting?
Answer: Die casting is referred to as die casting. Die casting is the process of using molds and machinery to quickly fill the cavity with molten metal under pressure, changing from liquid to solid to form the desired product.
2. What are the types of die casting?
Answer: From the injection chamber, it is divided into: hot chamber die casting (commonly used in zinc alloy) and cold chamber die casting (commonly used in aluminum alloy), and can be divided into: low pressure casting (such as automobile wheel shell) and pressure casting (such as our company) Die casting), from the exhaust method is divided into: ordinary die casting and vacuum die casting.
3. What are the die-casting alloy materials? What characteristics do they have?
A: Commonly used materials suitable for die casting are: zinc alloy, aluminum alloy, magnesium alloy and copper alloy. They have the following characteristics:
(1) It has good fluidity in the liquid state;
(2) It has relatively fixed melting point and freezing point;
(iii) Smaller shrinkage rate;
(iv), has a certain high temperature strength;
(v) It has good processing performance and corrosion resistance.
4. What are the main components of die-casting aluminum alloys? What are the impurity components?
A: The main ingredients are: aluminum, silicon, copper, magnesium, manganese, zinc, etc.
Impurity components are: iron, zinc, copper, tin, aluminum, sulfur, phosphorus, etc.
Different compound numbers have different requirements for their main components and impurity components.
5. What are the main defects of die castings?
Answer: There are under-casting (unsatisfactory material), cracks, deformation, cold insulation, cold streaks, shrinkage, pores (sand holes), mechanical strains, mold stick strains, delamination, wrong molds, slag inclusions, surface air pockets , bubbly, meaty, meatless, etc.
6. What is the temperature of the aluminum alloy liquid suitable for die casting production?
Answer: 650℃~720℃
7. What are the characteristics of die casting production?
Answer: (1) High production efficiency, which can realize mechanized or automated production;
(2) Good product quality: A, high dimensional accuracy, high surface finish; B, good mechanical properties; C, good interchangeability; D, clear outline, thin and complex casting walls, patterns, patterns, characters, etc. can be obtained high definition;
(3) Good economic effect: A. Excellent economic indicators; B. Low cost of die castings; C. Can be used as a combination of parts;
  Industrial Chassis Accessories-Cooling Shell, 1100t,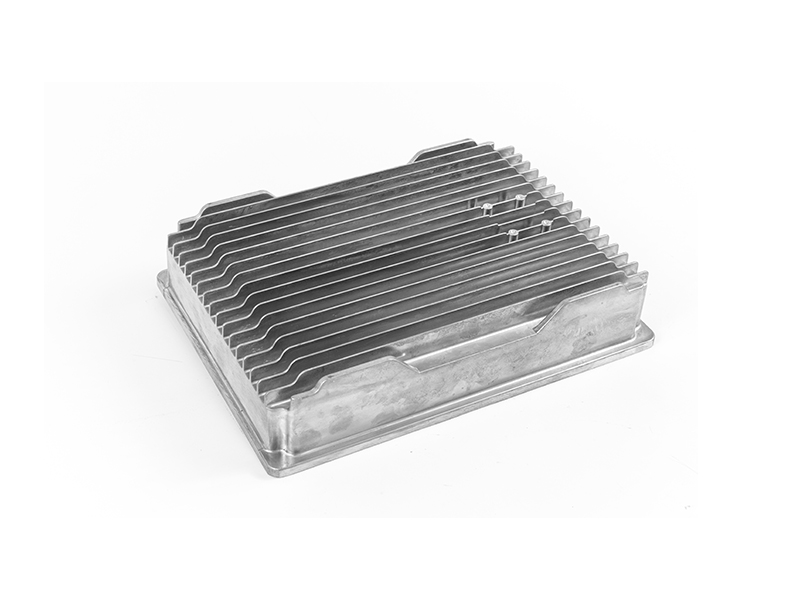 All parts can be supplied according to customers' blue prints Various applications such as automobile, power tool, automatic equipments, machinery, etc. We are one of leading manufacturers of precious die casting molds, aluminum alloy die casting for auto parts, two-wheel products, fan products, camera products, light accessories in China. Our products vary from home appliances, office appliances, precise automotive industries, to spare parts of industry hardware and etc.
  1. Professional manufacturer
  2. Fast delivery, high quality and superior prices