A
die casting electronic controller
is a device used in the die casting process to control and monitor various aspects of the manufacturing process. This can include controlling the temperature of the molten metal, the pressure of the metal as it is injected into the die, and the speed of the injection. It may also include sensors to monitor the process and provide feedback to the operator, such as the temperature of the die and the pressure of the metal. The controller is typically operated by a computer or other electronic device and may be programmable to allow for variations in the manufacturing process.
Electronic Controller Accessories-Bottom Cover-300T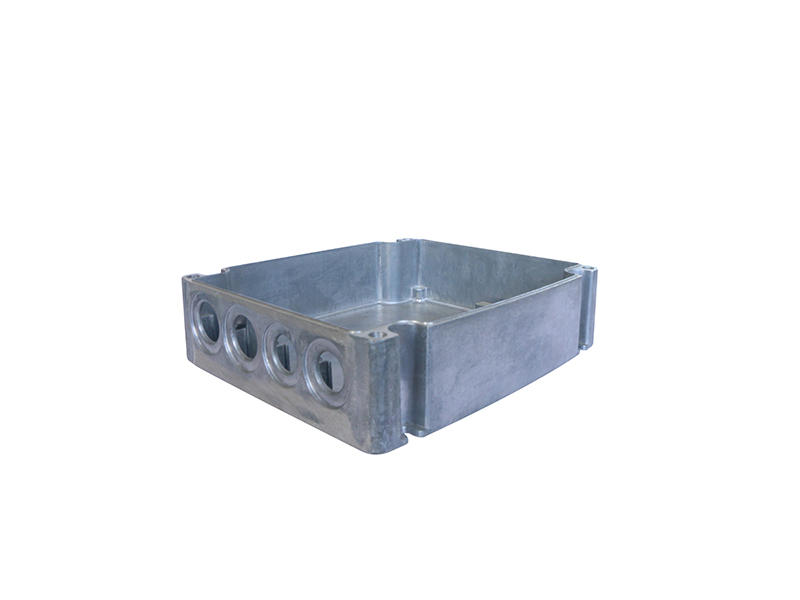 All parts can be supplied according to customers' blue prints Various applications such as automobile, power tool, automatic equipments, machinery, etc. We are one of leading manufacturers of precious die casting molds, aluminum alloy die casting for auto parts, two-wheel products, fan products, camera products, light accessories in China. Our products vary from home appliances, office appliances, precise automotive industries, to spare parts of industry hardware and etc.
1. Professional manufacturer
2. Fast delivery, high quality and superior prices 
Name 
Description
Precious die casting molds
Bases on clients' drawings
Mould material 
H13 or Dievar
Cavity 
1or 2 or 4 according to parts' structure and volume
Mould design
Based on 2D/3D drawings
Design software
UG, Pro/E, AutoCAD
Tooling life 
50,000 shots or 100,000shots
Delivery time
5weeks~7weeks normally
Product material
ADC12,A360,AlSi9Cu3,A380
Die casting machine
280T,300T, 400T,650T,800T,1100T
Die Casting Machine Type
Cold Chamber Die Casting Machine
Pressure Chamber Structure
Horizontal
Surface treatment
Grinding, Sand blasting, Polishing, Anodizing, Powder coating, wet painting, ED coating
Specification
Depends on customers' requirements
Certification
IATF 16949:2016
Our advantages:
1. Our factory is specialized in doing OEM/ODM products according to customers' drawings or samples.
2. Fast delivery: lead time of 2~4 weeks for quick die and 4~6 weeks for normal die;low volume production (10pcs~500pcs) within short delivery in days.
3. High quality: quality control process covers all running process from design to final product.
With over 20 Years of Experience in the Die casting/Engineering Business, SANDEXING MOLD provides metal casting molded engineered solution for your market application
Our Services
Beilun Sandexing Mould Co., Ltd. is professional China Die Casting Electronic Controller Accessories-Bottom Cover-300T suppliers and OEM/ODM Electronic Controller Accessories-Bottom Cover-300T company in China. We strive to be your best partner during the entire process of Die Casting Electronic Controller Accessories-Bottom Cover-300T from design to product.
Design and optimization
Designed by UG, Pro/E, Auto CAD software.
1.Die design
Number of cavities; In-gate design; air exhaust system; moving cores; parting; cooling; ejector placement.
2.Part design and optimizing
Optimizing for process; tolerance; wall thickness; draft angle; radii inside /outside; Parting.
3.Flow simulation to evaluate die design and eliminate initial design defect.
# 11 Weishanhu Road, Daqi street, Beilun, Ningbo, China, 315800
+86 (0)574 86132209
Sherryliu@sdxcasting. com